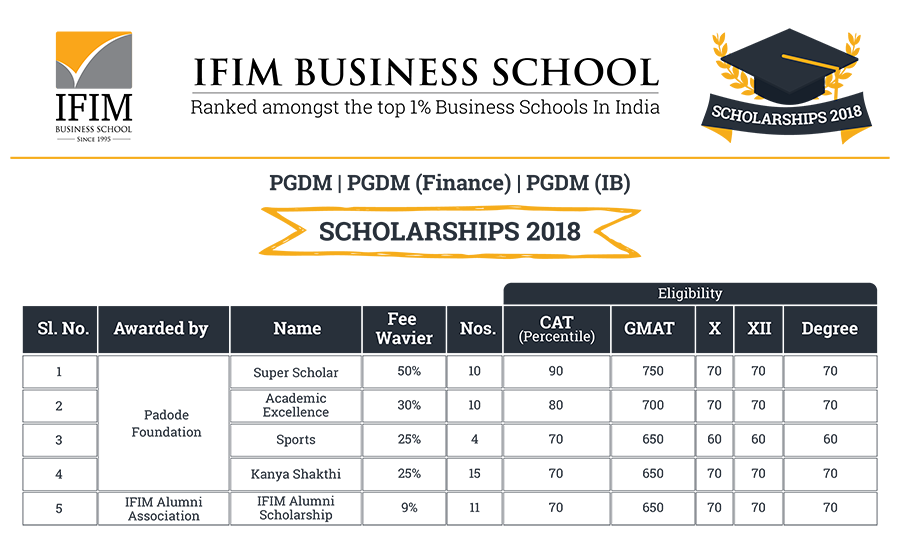 The objective is to identify meritorious talent who will be offered merit scholarship for pursuing a two-year, full-time Post Graduate Diploma in Management (PGDM) at IFIM Business School, Bangalore. Scholarships in the form of a fee waiver will be offered to meritorious students, who have appeared for CAT or GMAT according to the eligibility criteria mentioned below.
About IFIM Business School
IFIM Business School is one of the top ranking institutions in India. It has a distinct advantage of being a pioneering premier management institute housed in the hub of the IT industry –in Electronics City, Bangalore. Our association with the industry is therefore, strong, varied and deep rooted. PGDM is our flagship program, two years fully residential, and we leave no stone unturned to make it rigourous, industry oriented and knowledge-driven. The curriculum is constantly updated with the help of renowned in-house academicians and top-notch industry experts. We have a strong connect with our alumni, as an institution that is more than 23 years old and most of our graduated students are in high positions in the corporate world. With all the hard work and involvement in various activities, a prospective student can also look for fun, and time to pursue one's own hobbies in the two-year program. IFIM offers the best of infrastructure, state-of-the-art classrooms, labs, hostel rooms, auditorium and 24x7 wi-fi connectivity. We provide high quality of education, training and excellent placements year after year.
Students at IFIM Business School are regularly exposed to corporate mentoring, industry visits, weekly industry guest lectures and industry-academia events like Ascent Transformation Series in association with Times Ascent. Furthermore, activities like Industry Internship Programme and case-studies ensure that the students are developed with a holistic aptitude with the knowledge and understanding of the industry. With an industry connect which brings together classroom learning and practical experience, the management graduates receive excellent placement offers from the best companies. We welcome you to a journey of knowledge and experience at IFIM Business School.
Instruction
All fields marked with * are to be filled mandatorily.
Please keep the following self-attested scanned documents ready to upload with your application form:

Photocopies of mark sheets and certificates.
Passport sized photograph.
Aadhar Card / Passport / Driving License for proof of your identity and address.

Please keep the following ELIGIBILITY CRITERIA in mind before initiating your admission procedure.
An Application number will be displayed, once you successfully submit the online form by making an online payment.
Quote this Application number on any communication with us.
Testimonials

"The 2 years at IFIM proved to be the grooming ground for me. The good mix of academia, case studies and on-the-job training did wonders for my skills and trained me to be the professional I am today."
MR. PRAVEEN SAHAIDirector of sales - India & SAARC Iomega-EMC2 (1996-1998)

"The program has helped me to understand the complex economic and political scenario underlying the rapidly changing international business environment today. IFIM provides this environment with a well structured program, pedagogy, diverse culture and team of batch mates bringing rich experience from varied fields."
Mr. SIMANT ARUNManager - Toyota Kirloskar (1997- 1999)

"IFIM Business School has been the starting point of a great adventure for me. It gave me a taste for a multicultural environment and a passion for international markets. This is also where I started building my professional skills and career."
MS. MONSOON DHIRPremier Wealth Manager, HSBC (2006- 2008)

"I have experienced a great deal of personal growth during my time at IFIM, improving specific knowledge bases and managerial skills. During my time here, I have had the pleasure of learning from top professors. The unique thing about IFIM Business School is the 6-month industrial internship, which enables students to get great insight about the business, organizational structure and culture of an organization before they are placed."
MR. B. SHREYAS RAOTeam Leader, Xchanging Technology Services Pvt. Ltd. (2007- 2009)

"IFIM's programs are unique as they require students to understand each other, develop teams and solve problems in a very short time during the workshops. This prepares the students for real world situations, where critical problems need to be resolved in a short span of time by teams comprising of people with conflicting interests. IFIM sharpens your management visor. One could see all before, but not understand the concepts precisely."
MR. SOURAV KUNDUTerritory Sales Incharge, MT KA, Reckitt Benckiser.Pvt. Ltd. (2007- 2009)